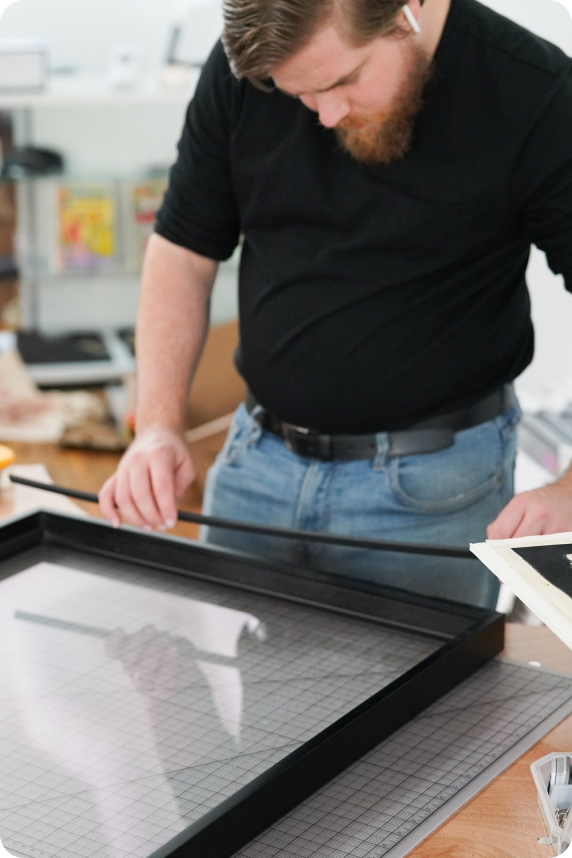 Ledbetter Custom Framing
Jean-Dwight "Dewey" Ledbetter is a multi-disciplined artist, specializing in painting and illustration. His study as a studio artist informs his work and roots its sources in traditional and contemporary styles. He comes from French heritage, which heavily influenced his appreciation for art, having been exposed to fine art from a young age. He grew up in Southern California, where he experienced more contemporary art, broadening his artistic influences. While his art forms are varied, he has spent time studying and apprenticing under plein air oil painters, as well as urban spray paint muralists. An abundance of styles and media is prevalent throughout his body of work, as his fascination with art is ever evolving.

Dewey believes in the practice of custom framing as an extension of a work of art. His choice of frame, mat, and design are unique to each individual piece and are a work of art in and of themselves. Through Ledbetter Framing, Dewey continues to produce one-of-a-kind creations, enhancing the aesthetic of an art piece or memorabilia by encasing it in hand-crafted, archival, made-to-order frames.

His innovative framing incorporates unconventional textiles and customized materials to achieve a completely unique, yet complimentary look. In addition to his interest in framing aesthetics, Dewey strives to ensure the longevity and durability of each piece. Taking all factors into consideration, Dewey will always identify and work with the appropriate museum-quality materials, including glass, which will protect the artwork forever. His passion for both creating art and framing it, is apparent in his work.